Seasonal flowers to choose from this fall
Summer with its vibrant energy has rolled over us in a whirlwind, and autumn with its calm hygge evenings is here. The past months have filled our hearts with warm sunlight, and now we get to spend more time between the four walls of our home again. This makes it the perfect moment to bring out all of your woollen throw blankets, warm socks, and aromatic candles to make your place cozy and invite the hygge in.
We mustn't forget fresh flowers, as they always manage to set the mood and bring good energy. We're absolutely delighted to give you our recommendations for picking out autumnal flowers, so they can cheer up your home or bring happiness to your loved ones.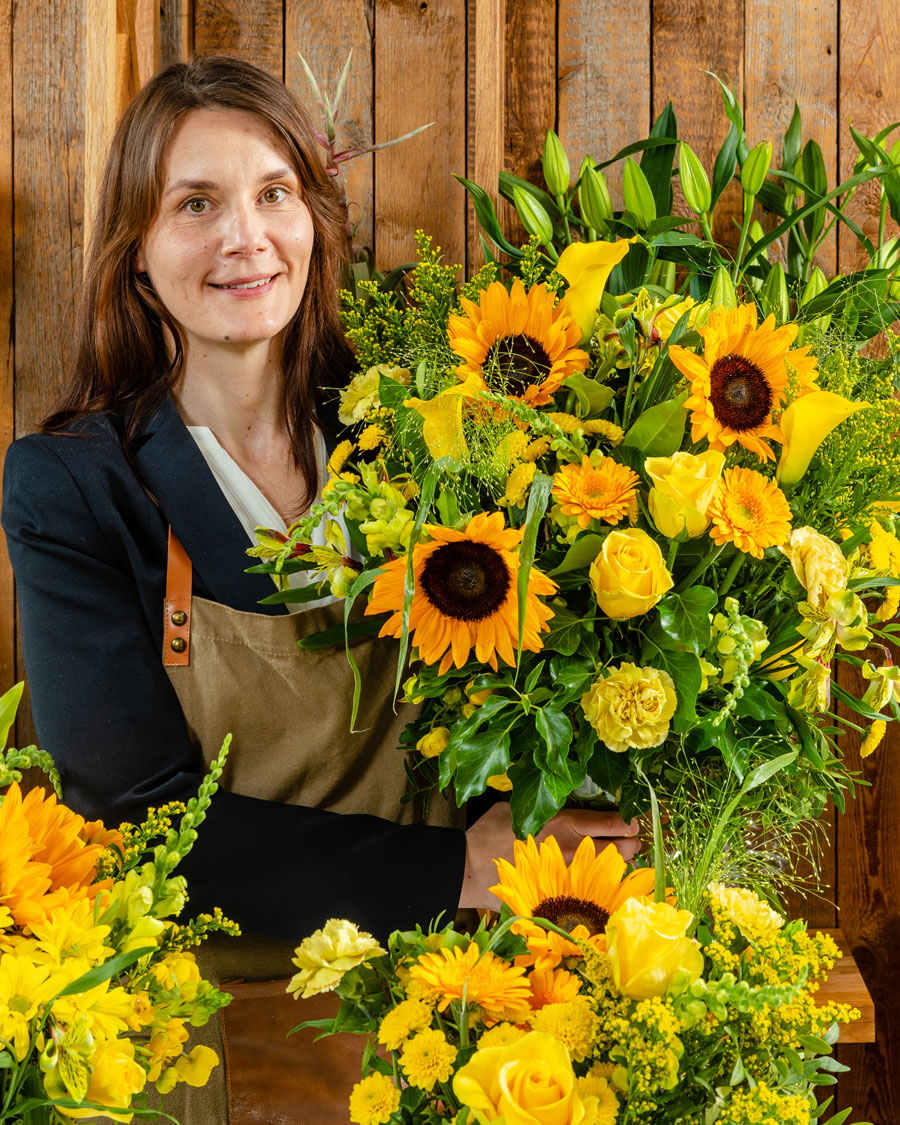 Order the bouquet on the photo: Sunray - florist's fantasy.
The best choice is to put together a bouquet of blooms that are currently in season.
Our recommendations for your home and as gifts to others for this autumn are:
Sunflowers
Golden sunflowers are like an escape from the gloomy fall weather, as they can take you back to warm summer evenings, let you relive all the memories of sunny adventures, and give your mood a boost. Sunflowers are blossoming from July to September and are ready to cheer up your home in an instant or give your loved one a little colour therapy in the form of a joyful bouquet.
Their name is inspired by the sun, as one might guess, and they have a wonderful ability to turn their faces towards the sun throughout the day, to keep receiving its warmth and sunlight. This is a great reminder for us as well, to find some sunlight to bask in and cheer us up when we're feeling a bit sad.
Chrysanthemums
Chrysanthemums are popular all year round, but they really come alive in autumn. Their deep red, fiery orange and golden yellow blossoms bring us energy, vitality, and warmth.
These flowers are not only a treat for the eyes, as one variety also has healing benefits. The petals of a one-year-old Glebionis coronaria are suitable for brewing tea, which is believed to reduce blood pressure, is anti-inflammatory, and relieves pain. A warm cup of tea is a perfect addition to cold fall evenings, isn't it?
Celosias
These distinguished and vibrant blooms are definitely the star of every seasonal bouquet in autumn, shining brighter than all the other flowers. Celosias come in a wide variety of autumnal hues, ranging from spicy oranges to deep maroons. Their curly blooms strangely resemble the human brain with its folds and creases, and the soft blossoms are almost begging to be caressed. They unquestionably steal the spotlight and are an excellent choice for bold and eclectic individuals, symbolizing courage and beauty.
Celosias are in season from late summer to early autumn, making them a staple of bold bouquets in September.
Dahlias
The stunning and almost symmetrical petals of dahlias are guaranteed to stand out in every bouquet. There are many eye-catching, and fascinating varieties that come in different shades, shapes, and sizes. Every colour has a distinct meaning and symbolism.
Red blooms should be preferred when the bouquet is for your date, symbolizing love, and passion.
Or you can also pick pink hues that embody tenderness, elegance, and femininity. White dahlias however stand for purity, novelty and peace.
Dahlias bloom between late June and early December, sharing their beauty with us and being available a lot later in the year than many other flowers.
Asters
Cute star-shaped asters are in season from August to September. Their blooms are mostly violet-hued with golden yellow centres, symbolizing power, ambition, and wisdom. They are a lovely pick for all the people born in September, and a nostalgic flower in the bouquet of an enthusiastic first-grader.
According to Greek mythology, asters were born from the tears of the goddess Astraea, who was so sad that there are so few stars in the sky. Her tears fell to the ground and aster flowers grew from these places, reminding us of the stars.
Anemones
Delicate anemones are in season from late summer to September. Their soft pastel pink and violet blossoms make an elegant table decoration or suit well into a dainty, feminine bouquet.
The extraordinary trait of anemones is their ability to close their petals at night, and open them again in the morning! This is why they also have a special symbolism, representing anticipation and the passing of time, and are a thoughtful gift for those who are expecting some news.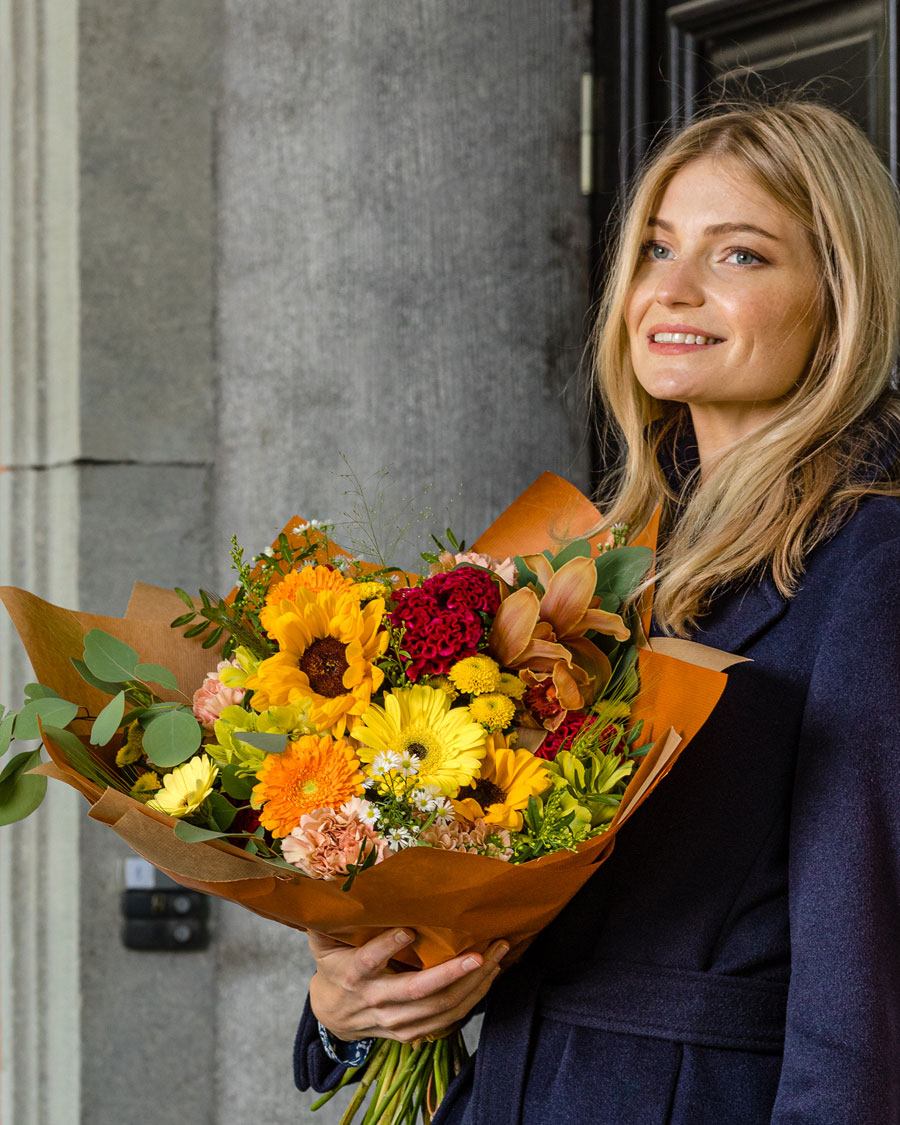 Order the bouquet on the photo: Autumn bouquet of the day.
Order your autumnal bouquet from Interflora!
We custom make every Autumn bouquet of the day for you. This beautiful surprise is born from the florist's creative ideas and the best flowers of the day.
Fresh autumn flowers and greenery meet in the bouquet of the day. Each bouquet is special and unique and is made according to the inspiration of the florist.'Small but beautiful' bouquet adorns a party table, 'the golden mean' wins a heart, 'luxurious' will be remembered for a lifetime. Let yourself be surprised!
See our fall selection from here: