Wedding bouquets
Wondering how to pick the perfect bouquet for a wedding? Here are our suggestions.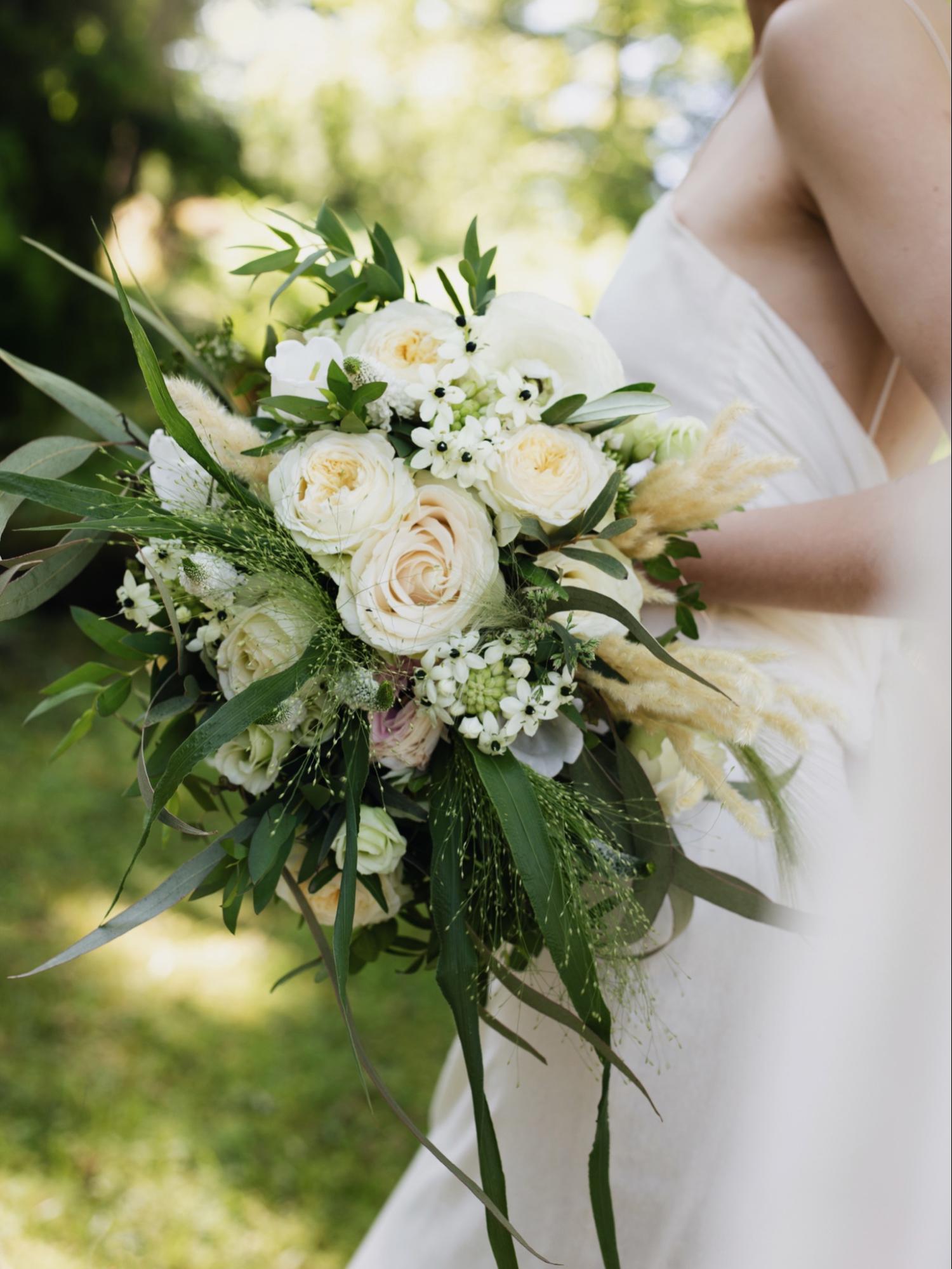 Flowers have a very important part in a wedding, as they elevate the mood and bring a festive element to the party. However, you shouldn't leave things at the last minute, as it's good to do some research to help you choose the perfect bouquet for the happy couple. If your vision is clear and you know what you want, then you can discuss it with your florist.
Professional florist can help make your vision come alive and create a custom bouquet that matches your requirements.
But if you don't exactly know which flowers to choose, then we'd love to share some nice suggestions and tips that make picking the perfect blooms a lot easier.
Good customs for choosing wedding flowers
Traditionally the bridal couple is given an odd number of flowers, as this is thought to bring them good luck. Keep in mind that the bridal bouquet is the most important bouquet at the wedding, so all the gifted flowers should be more discreet to not overshadow the bridal bouquet. When choosing the perfect wedding flowers the safer choice is to go for pastel tones and more modest floral arrangements instead of something extravagant with popping colours.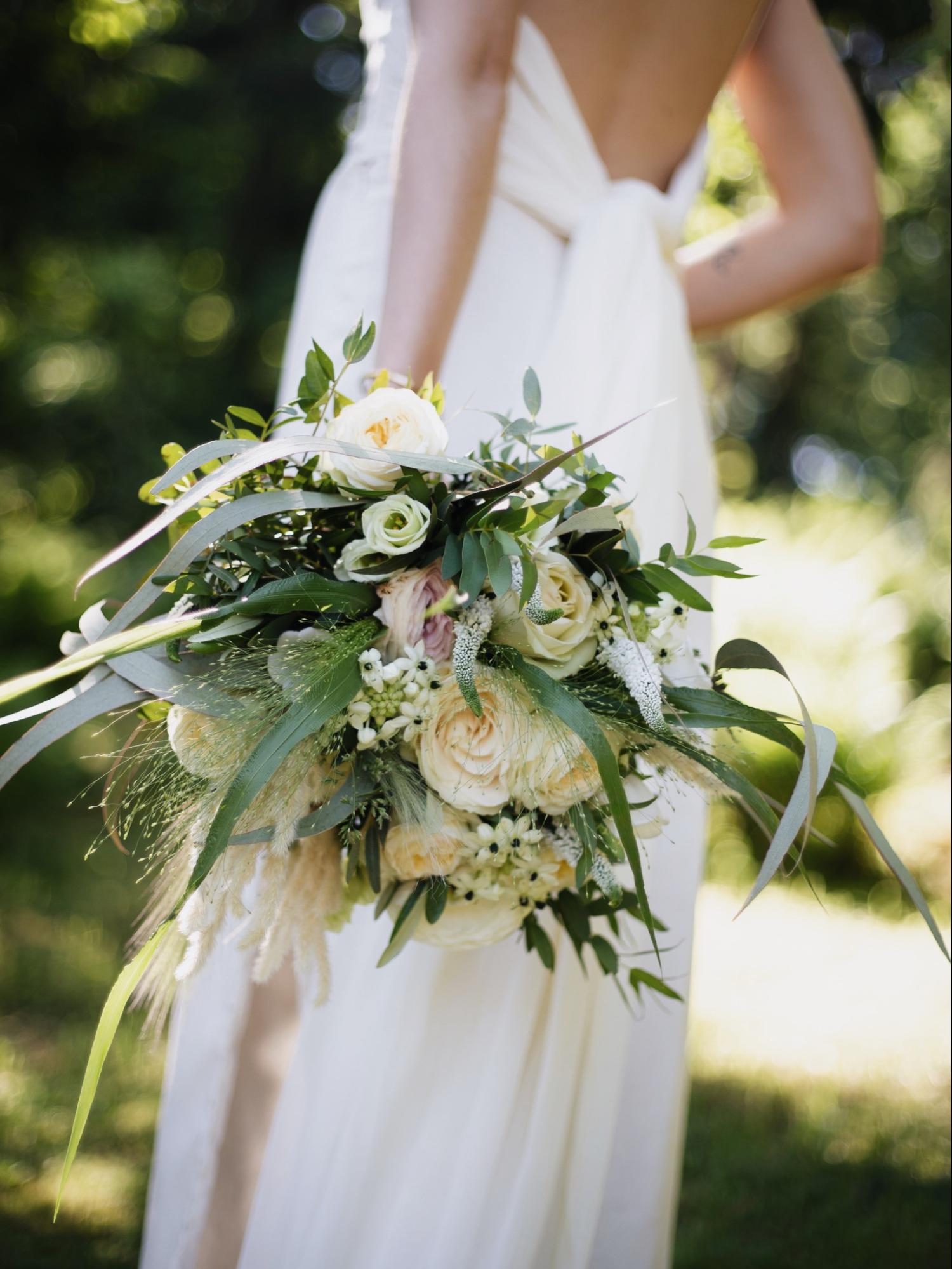 Which colour palette to pick?
Try to match the colour with the bridal couple and the wedding venue. If you can then ask around and take into account the style of the wedding, the colours of the decorations, and the tones of the bridal couple outfits when picking out the shades for the bouquet. This way you can make sure that the bouquet suits the rest of the interior and doesn't awkwardly stand out. You can keep in mind that every colour has its meaning and symbolism, and also take that into account.
Traditionally red symbolizes love, romance, and courage.
Pink embodies feminine energy, tenderness, and elegance. White stands for purity, youthfulness, freshness, and peace. Oftentimes people prefer cream and pastel tones for the wedding bouquets, as these arrangements are subtle and elegant, but also crisp and pure.
Which fresh flowers to prefer?
The most common wedding flowers have always been roses. They work well as standalone cut flowers, claim their space in a bouquet, and also suit wonderfully in floral arrangements for decorating the venue. Roses come in many hues and you can find the perfect shade for everyone - ranging from soft pastel tones to fiery reds. However, you should watch out for the thorns, as they may tangle up in your dress and cause some trouble. A good tip is to simply ask your florist to take care of them and snip the thorns beforehand.
Another popular choice next to roses is luscious and deliciously smelling peonies. These beautiful flowers with delicate petals suit well into decorations and also have a place in bridal bouquets. Besides looking gorgeous they fill the venue with a wonderful fragrance too. Another nice option is choosing lovely cluster roses, elegant lilies, prairie gentians, or different seasonal wildflowers like daisies and cornflowers.
Which part does the venue play when choosing a wedding bouquet?
It would be a nice touch if the flowers matched the wedding venue and its theme, so it's always a great idea to ask these for details beforehand to make the best choice at your florist's.
Local seasonal wildflowers like daisies and cornflowers work well for a rustic country wedding. But you should opt for more respectable flowers like roses and peonies if you're attending a glamorous wedding taking place in a fancy manor for example. Either way, talk things through with your florist who will be more than happy to help you make the best choice.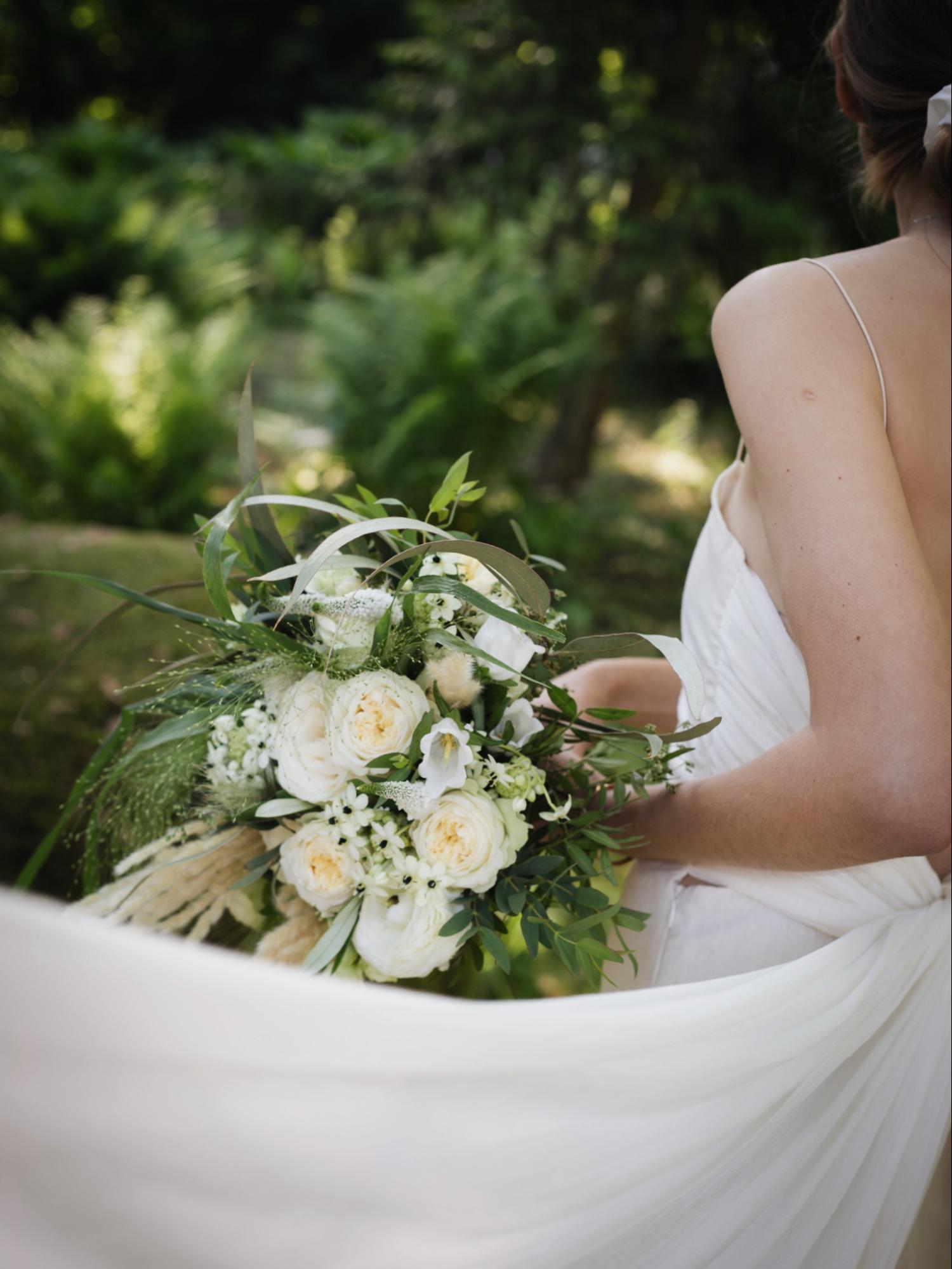 Order the bouquet on the photo: Moonlight serenade.
How do bouquets vary in winter and summertime?
The biggest difference is the availability of flowers during different seasons, which also affects the price. When classical roses are available throughout the year, then using seasonal flowers in bouquets during wintertime can be overly complicated and rather expensive. This is why you should also take the season into account when picking out the flowers.
Local daisies suit wonderfully for a summer wedding, but in winter it is more reasonable to go for roses instead. Whereas colourful tulips, bright daffodils, gerbera daisies, or grandiose peonies are a great choice for a spring wedding.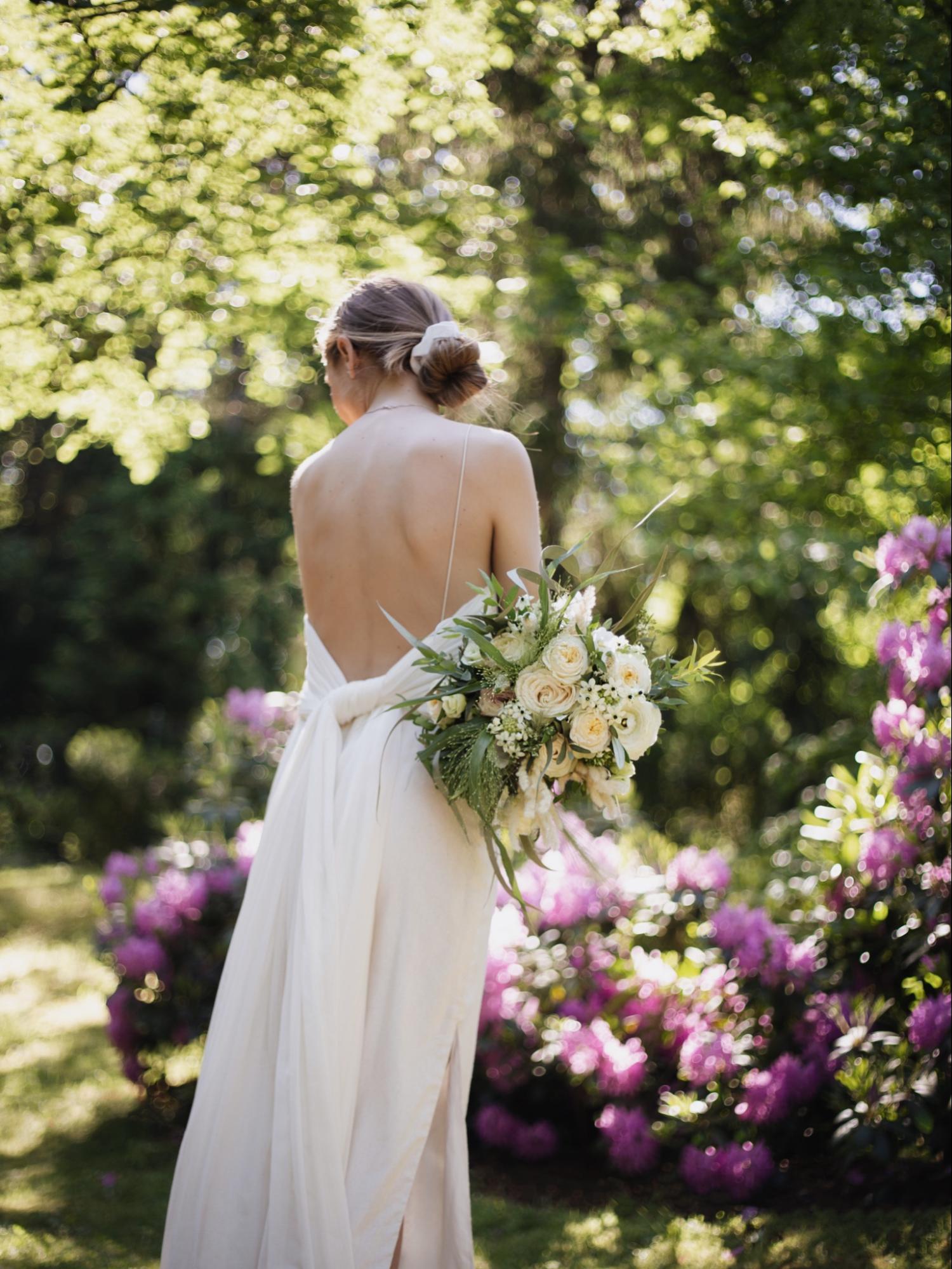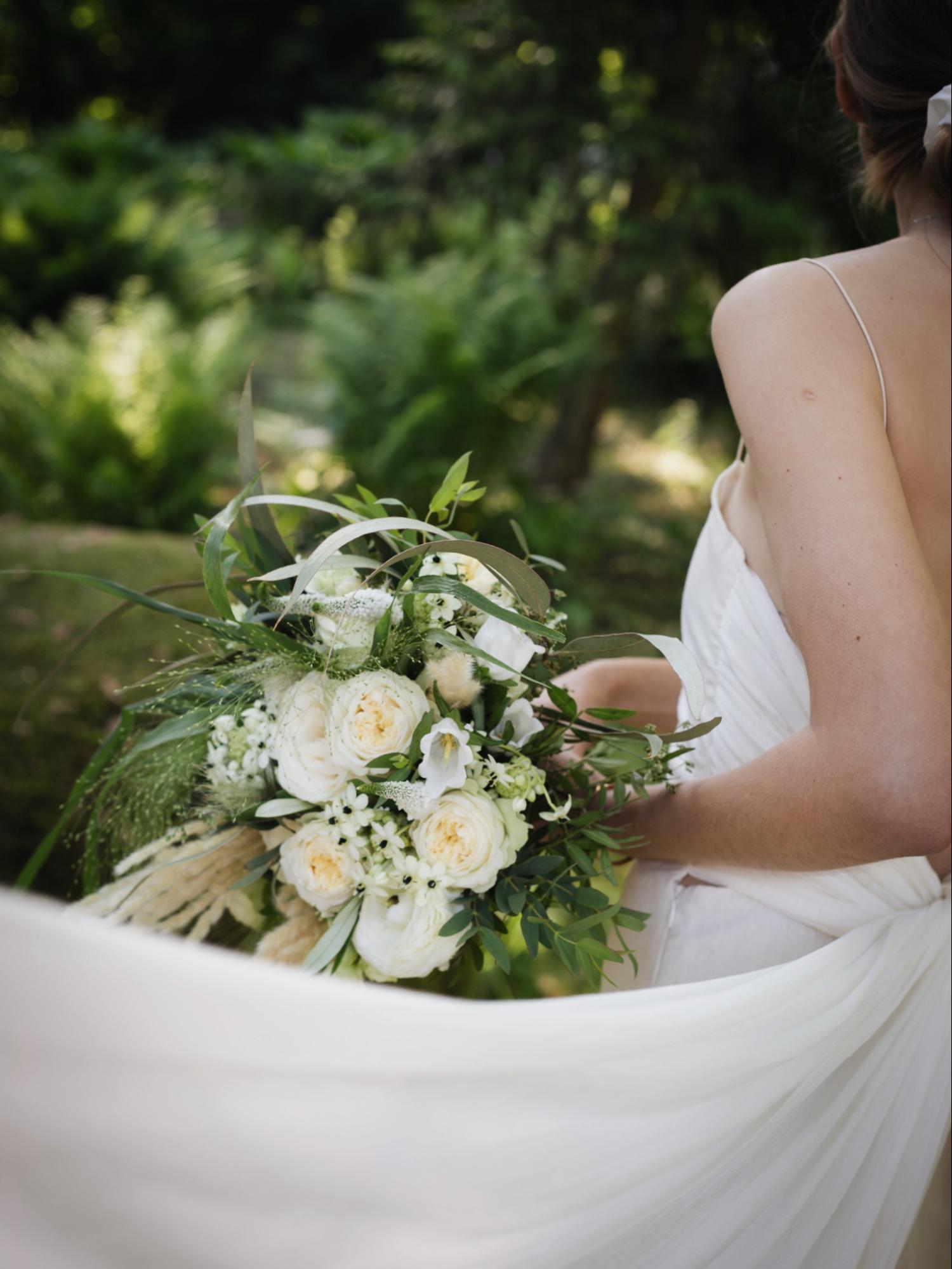 How are the wedding bouquets made at Interflora?
Lots of love and care is put into every single one of the bouquets our florists make, as we always aim to please. We want our flowers to be memorable, bring everyone lots of joy and delight. Every event and anniversary is special for us, as is every handmade bouquet we make.
You can see the selection of our bouquets here: Interflora wedding bouquets
Used literature: